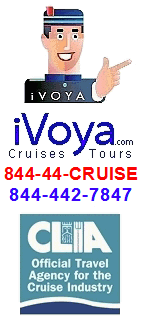 Open 7 Days a Week
Open Evenings


CALL US!
844-442-7847
844-44-CRUISE


luxury-cruises@iVoya.com

Call For Lowest
Cruise Prices!




Receive American
Express Platinum and Centurion Benefits!
iVoya.com Luxury Cruises
Enjoy Attentive and Knowledgeable Luxury
Cruise Reservation Services at the Lowest Prices!

844-442-7847
844-44-CRUISE

Select Luxury Cruises by Date, Destination, or Map

American Express
Platinum Card Benefits
American Express
Centurion Card Benefits
Lowest Prices. Free On-Board Credits.
Attentive Personal Service and Lower Pricing!
Seven-Day-A-Week Personal Attention


Universal Terms and Conditions For Luxury Cruises Special Pricing!