844-442-7847 for Schedule and Pricing
Cunard Line has announced that its new 90,000-ton cruise ship, which is scheduled to enter service in 2007, will be named Queen Victoria. Based in Southampton, England, the Cunard Queen Victoria will be the second largest Cunard Queen ever built. Together with the current flagship, Queen Elizabeth 2, and Queen Mary 2, the biggest passenger liner ever, the Cunard fleet will include three Queens for the first time – truly the most famous ocean liners in the world.
Cruise Queen Victoria will enter service in the company's 165th anniversary and will operate cruises to and from Southampton to the Mediterranean, the Canaries, Northern Europe, the Caribbean, and South America. The 1,968-passenger vessel will feature a covered wraparound promenade deck, a forward-facing observation lounge, a large Lido pool with a retractable magrodome, and 10 of the12 passenger decks will be served by exterior glass-walled lifts. Like QE2 and QM2, the liner will have a Queens Grill, offering single-seating gourmet dining. There will also be a unique Colonial Restaurant on Deck 11 with spectacular panoramic views.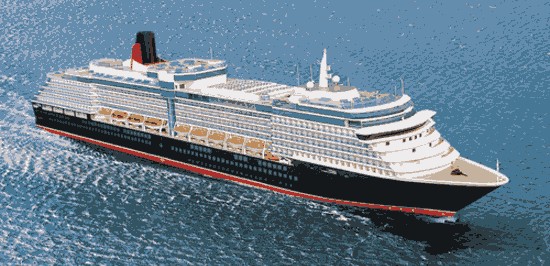 Available For Bookings Beginning Approximately April 2006.

Past passengers of Cunard and her sister cruise lines will enjoy early booking privileges.
Call us early at 844-442-7847 as soon as you know your travel plans!.
Anticipated itineraries include 12-day cruises between Barcelona, Spain, and Athens, Greece, as well as cruises originating and ending in Venice. Some cruise itineraries will include Istanbul, Turkey, the Black Sea ports of Yalta and Odessa--exciting ports that will complement ports in Greece and the Adriatic.
When the Queen Victoria winters in North America, she will feature 15-day cruises between Ft. Lauderdale and Los Angeles, through the Panama Canal, and will visit Hawaii and the Hawaiian Islands, with a relaxing 15-day itinerary that makes visiting these islands a pleasure enhanced even further by eliminating the need to pack, unpack, fly from island to island, or locate a good restaurant for dinner.
The South America itinerary of this elegant Queen will offer segments of from 17 to 55 days, similar to the quickly sold out sailing in January 2004 of the Caronia, when she completely circumnavigated South America in January, February and March of 2004, leaving Ft. Lauderdale and visiting Panama, Ecuador, Peru, Chile, Patagonia, the Falkland Islands, Buenos Aires, Argentina, Montevideo, Uruguay, Rio de Janeiro and other ports in Brazil, and popular islands in the Caribbean. This itinerary typically offers the chance to see Antarctica, the famous Nazca lines in Peru, and sometimes Machu Picchu or the Galapagos Islands.
Queen Victoria cruises will offer a wide range of accommodations, large standard outside cabins (170 square feet) and a high percentage of balcony cabins (67%), thereby bringing new levels of luxury and choice to passengers preferring to depart from a European port. Cruise Queen Victoria!

The on-board menus, entertainment and lecture program will be geared to British tastes and the currency will be sterling. Queen Victoria will fly the red ensign; she will have the name of her home port, Southampton, on her stern, and she will have a British Captain and Officers. In design terms the cruise Cunard Queen Victoria will have an undeniably British feel with two British design teams being responsible for the interior of the Cunard Queen Victoria.

Queen Victoria is being built at Italy's Fincantieri shipyard in Marghera, near Venice, with her keel laid on July 12, 2005. One of the most technically advanced shipbuilders in the world, Fincantieri has built more than 7,000 vessels, including many for Cunard's parent Carnival Corporation. Originally ordered as the fifth in a series of five 'Vista' class ships for sister company Holland America, the contact was signed over to Cunard before the keel was laid and Holland America then ordered a further ship for delivery in 2006. Enjoy a Cruise on Queen Victoria. The lead ship in the series, Zuiderdam, entered service in December 2002.
No cruise schedules have yet been announced. Her float out is scheduled for late 2006, prior to her delivery in mid 2007. She is scheduled to enter service in late 2007.