All Sailings On Sale -- Call 844-442-7847


Onboard Credits of Up to $500/Stateroom ...plus...
American Express Platinum and Centurion Card Benefits
Up to $550/Stateroom Additional
Crystal Cruises are the most popular of luxury cruises, carrying more passengers than any top luxury line. Her larger ships are still very intimate and appealing with stellar service. Her entertainment is undoubtedly the finest of any of any luxury cruise lines, with more elaborate staging and larger shows.

The favorite among experience luxury cruisers, Crystal wins more readers choice awards from Conde Nast and other fine travel publications. Her itineraries are well varied and filled with fascinating choices. The larger ship size offers more space for passenger enjoyment, from rooms devoted to fascinating classes and interests, to elaborate dining and lounge accommodations.

But you'll never be lost in the crowd on Crystal Cruises. The crew to passenger ratio is still very high, and the service is uniformly attentive and caring. The joy is in the details on this fine line for a pampered experience on a stunning and grand ship to exotic ports of call.
FEATURES OF ALL CRYSTAL CRUISES
All non-alcoholic beverages are unlimited and free of charge.

New: Complimentary bottled water, soft drinks and specialty coffees

New: Late-Risers Breakfast: 10 am at the Trident Grill

Feng Shui-designed Crystal Spa

Frette Linens

Bathrobes in every stateroom

In-stateroom Internet access

Butler service in all Penthouses

Up to seven distinct dining venues

Specialty Italian and Asian restaurants

Lavish Broadway-style production shows
844-442-7847
crystal-cruises@iVoya.com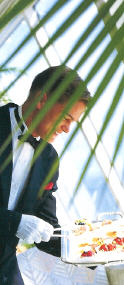 Crystal Cruises:
Kosher-Style Dining


Crystal Cruises:
Attire on Board


Crystal Cruises:
Shipboard Life


Crystal Cruises:
Terms & Conditions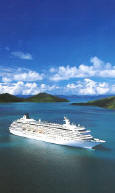 Crystal Cruises
in the Caribbean

Crystal Cruises sailing Glacier Bay, Alaska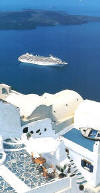 Crystal Cruises at
Santorini, Greece